Description of the service
Maximemo is an online community reminder for storing your notes.
It is in the category of Social Bookmarking sites.

You can write notes, collect, organize and share everything you like, in memos which are easy to find thanks to its content is organized in tabs allowing you to have all your content on one single page.
This is YOUR own library where you store web pages, photos and notes in memos. For example, if you like westerns, create a "western" tab and write memos within this tab. It is as simple as that!
Remember the times when you had unearthed interesting links or texts. You put links in your favorite web browser, but when you were at work or with friends, you no longer had them!
You stored interesting texts on a USB key, or you sent them to your email box to have them at hand, but the messages were limited in size and often all mails were delivered at home and you no longer had them anywhere else.
You could leave notes in some social networks but they are not made for that: at best they have time-lines, but it is impossible to organize their content.
Well, Maximemo avoids all these problems!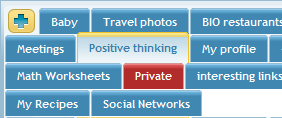 Maximemo is social and allows exchange: memos of all the members can be shared, allowing you to discover a lot of interesting things. Ideal to enrich your own memos.



The other advantage of Maximemo is the ability to follow members' topics (or subscription): you have at your disposal a list of members' newly created topics, that you can follow. Thus, each time a member adds a memo to a topic to which you have subscribed, it will appear on your page, giving you the ability to duplicate, store and organize it in your tabs. You can also change it, it's yours. Whenever you log in, Maximemo proposes new topics created by members since your last connection, so you can subscribe to the topic of your choice, and you are sure that you will not have missed anything.
Come and share your discoveries and hobbies, and surf Maximemo to discover memos shared by the community!